Patrick Rynne is the founder and CEO of Waterlust, a purpose-driven sports apparel company with a twist: The items they sell are made with recycled materials. Each fabric print represents a conservation topic. The company pairs their wares with research labs, nonprofits, or educational organizations and donates 10% of profits to support them. It's a small company, consisting of Patrick, his wife Fiona and her sister Laura.
Patrick Rynne has a passion for aquatic life and boardsports including kite sailing and surfing. He has a PhD in marine physics and a master's in ocean engineering and makes feature-length YouTube videos on building and refurbishing DIY surfboards. He's an enthusiastic user of Entropy Resins CLR in his surfboard projects, and he recently gave us an interview about his approach to DIY surfboard building.
See Patrick's full tutorial on building A surfboard.
The Interview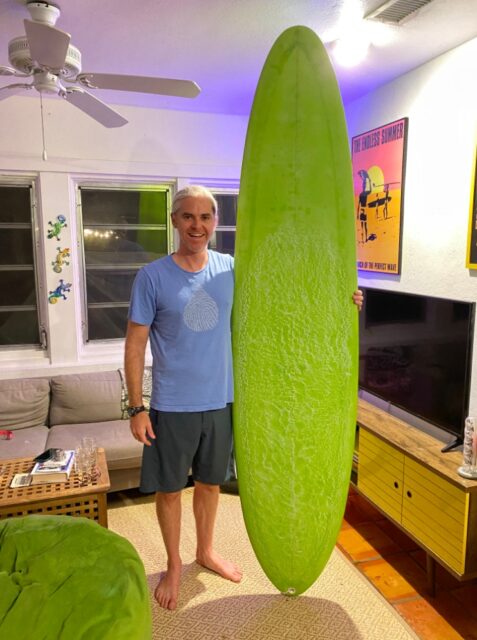 What drew you to surfboarding and getting involved with building or refurbishing surfboards?
I grew up by the ocean and started surfing as a kid and just fell in love with it. I also really love building stuff, and eventually started studying engineering, so it was a natural fit to start building my own equipment and fixing up old gear that I found.
Why is sustainability important to you?
I think the environmental crisis is the biggest challenge of our time, and if we are to have any hope of addressing it, we all need to learn how to live more sustainably. Everybody needs to do their part.
How do you incorporate sustainability into your life?
In general, I try to keep my life simple. I live in a part of the world where I like to be, which helps me keep travel down. I try to eat responsibly sourced foods and repurpose old things instead of buying new things. I try to live mindfully. But ultimately, everything we do as humans comes with an environmental cost. There is no free lunch. And to make matters more complicated, everybody's life circumstances are different. An environmentally responsible choice that works for some, may not work for others, so it's important that we acknowledge that and have empathy with one another. We each have to find our way to contribute, to identify what parts of our lives we're willing to adjust on behalf of the planet and what parts, if any, we are not.
Why did you start using Entropy Resins®?
I learned about Entropy Resins in 2018. I was up at Grain Surfboards in Maine, building one of their wooden surfboard kits as part of a YouTube project, and their team told me about these cool resins. I was really impressed that a resin company was trying to tackle environmental issues.
How long have you been using these products?
I repaired my first surfboard with Entropy Resin about a year later in 2019, and loved how it came out.
Which Entropy resins and hardeners do you use the most?
I've been using the Clear Laminating Resin (CLR) with Slow Hardener (CLS) and love it. I do a lot of my repair work outside here in Florida, and it's hot! Despite the high temperatures, the pot life I get with the slow hardener is really awesome and makes the layups much easier to tackle. I've also been really impressed with the durability of the epoxy in the sun. A lot of epoxies will break down and yellow over time when exposed to UV, but so far all of my projects look good as new!
[Editors note: we never argue with success but we still recommended a UV-protective topcoat such as 2-part polyurethane over cured epoxy that will be exposed to sunshine.]
What's your typical epoxy application process?
It really depends on the project. I do a lot of different stuff with the CLR, from fixing an old surfboard to glassing a new one, to repairing sailboats or kiteboards. Each project brings its own unique challenges.
My biggest tip is to be patient, take your time, and plan ahead.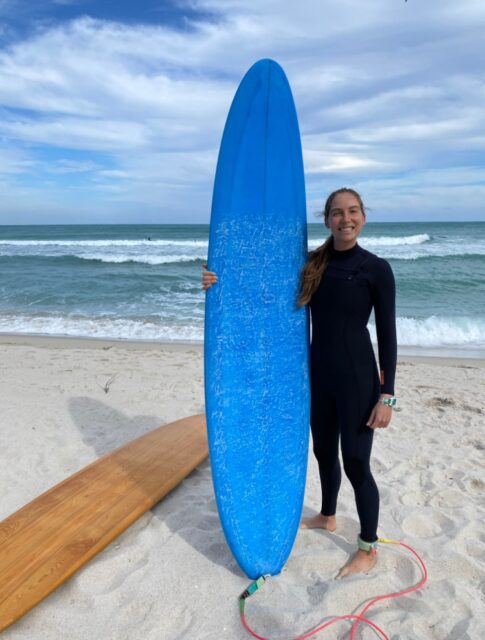 Can you offer our readers any tips or tricks for using Entropy Resins?
My earliest mentor in composite work taught me to be patient. He told me "It's all in the prep work." He was totally right. The more time you prepare your project for epoxy application, the better it will turn out! So my biggest tip is to be patient, take your time, and plan ahead.
Is there anything you feel sets Entropy Resins apart from other resins or epoxies you've tried?
For me, the biggest thing that sets Entropy apart from everybody else is their commitment to sustainability and environmental responsibility. Taking that position in the resin industry is really gutsy. It would be so easy to just say "Hey, this is a chemical, and it is what it is," but they aren't. Instead, they're pushing themselves to find innovative solutions that are better for the planet. Those are the type of companies I want to support!

 Watch Patrick renovate this old surfboard.
What do you like about Entropy?
Great pot life, even here in South Florida. I find it's really forgiving to work with and it consistently produces a strong laminate. I've also noticed it yellows less than other epoxies I've worked with. That's a big bonus, especially on a surfboard!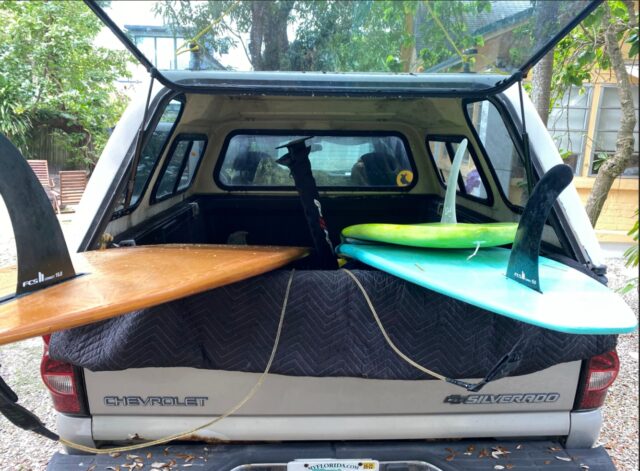 Are there any nonprofits close to your heart?
At Waterlust, we currently support 16 different causes and I like them all equally! You can learn about them all at Waterlust.com.
ADDITIONAL IMAGE CREDITS
Top: Patrick and Fiona laminating a green DIY surfboard courtesy of Patrick Rynne.
Bottom: Patrick Rynne with green and blue DIY surfboards, courtesy of Patrick Rynne.