There are several good reasons to use biobased Entropy Resins. They reduce your impact on the planet. They're made with sustainable raw materials that reduce the need for offsets, making the supply chain more reliable. In turn, this drives the cost of sustainable raw materials lower compared to non-renewable, single-sourced alternatives. 
If you're selling the end-products you create with biobased epoxy—whether it's surfboards, skateboards, skis, furniture, or works of art—you'll find that consumers are becoming increasingly conscious of the environmental impacts of products they choose. The inclusion of biobased Entropy Resins can become a strong selling point.
Including biobased epoxy in composite end-products makes them potentially recyclable. Byproducts of the manufacturing process can be recyclable as well. While there are not yet large-scale recycling facilities for composites, the American Chemical Society identifies this as an area of need for technological advancements to foster sustainable growth in the chemical industry.
Entropy Resins is proud to be the first epoxy product certified under the USDA Certified Biobased Product Label program. We believe that we Make Things Better® by formulating a better product that helps you make better products. Our resins are better for the planet, people, and our customers.
The Basics of Biobased
We use the term "biobased" a lot, but what exactly does it mean? Well, it isn't a marketing term and it's not greenwashing. Biobased is a quality that can be scientifically determined and independently verified. We developed and manufactured the first epoxy product certified under the USDA Certified Biobased Product label program. Today, all Entropy Resins products meet the program criteria and are USDA Certified Biobased Products. We'll answer some common questions about biobased products at the USDA program.
What Does "Biobased" mean?
A product is considered biobased when its main ingredients are biomass substances. This means they're derived from natural living, renewable resources or living matter that is synthesized. Biobased products can also be derived from byproducts of processes that use biomass. The biobased raw ingredients of that Entropy Resins are formulated with include petroleum byproducts and plant-based oils.
What does USDA Certification mean?
The U.S. Department of Agriculture (USDA) has determined a minimum for biobased content that a product must meet before it qualifies as USDA Certified Biobased. The content of the product is tested and verified through a third-party, independent lab.  Entropy Resins are USDA Certified Biobased through the USDA's program.
From USDA.gov:
"The BioPreferred Program is a USDA-led initiative that aims to assist in the development and expansion of markets for biobased products. The program was created by the 2002 Farm Bill (legislation), and expanded as part of the 2014 Farm Bill. The increased development, purchase, and use of biobased products will reduce our Nation's reliance on petroleum, and increase the use of renewable agricultural materials."
HOW DO Biobased Entropy Resins AFFECT THE ENVIRONMENT?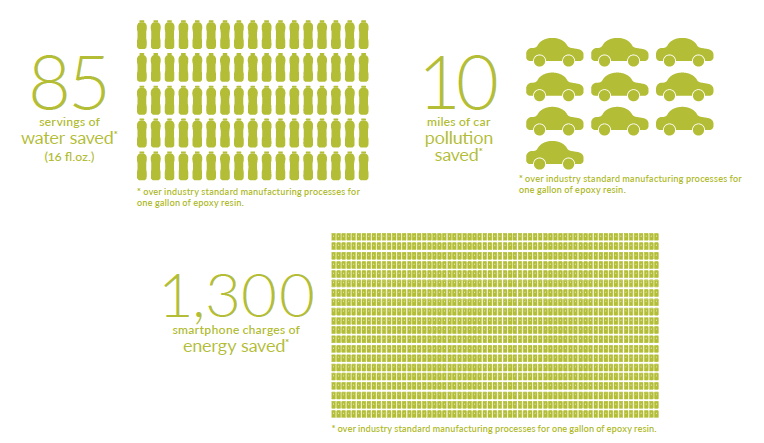 Over the industry average (in the Americas) for liquid epoxy resins, manufacturing one gallon of Entropy Resins Epoxy with Super Sap technology saves: enough energy to charge 1,300 smartphones; 85 servings of water (16 fl.oz.); 10 miles worth of automobile pollution.
HOW IS The ENVIRONMENTAL IMPACT DetermineD?
We had an independent third party, Long Tail Sustainability, perform a detailed Life Cycle Assessment (LCA). The assessment provides an accurate picture of the true environmental trade-offs of Entropy Resins. It acts as a framework to measure the impact of our epoxy products. It sets parameters for us and goals to achieve so we can see how well we're doing while aiming to do even better. The LCA uses data from our operations to help guide our decisions as we manufacture high-quality, sustainable epoxies that consumers can feel good about using.
View the LCA report from Long Trail Sustainability: Life Cycle Assessment Report
Image Credits
Top & Featured Images: Pelicans by Birger Strahl on Unsplash
Bottom image: Seals by Neil Cooper on Unsplash.