Exotic Wood Masterpieces
The Wright Edge custom artisanal woodworking specializes in uniquely gorgeous furnishing and breathtaking art. This Dallas, Texas company had an unusual start.
Owner and master craftsman Doc Wright earned a Geology degree with a minor in Chemistry from Texas Tech University and was hired as an oil-industry geologist shortly after graduating. He worked with drilling engineers and helped execute drilling operations. The job required a demanding travel schedule: He'd travel and work for two straight weeks, then have one week off.  In order to relax and fill his time during his off-weeks, he took up woodworking.
From Hobby to Career
"By the time I was 31 or 32 I was already making more money than my parents and I pretty much had all the boxes checked off, and I was bored out of mind," he told the More Than Home podcast. One of his first projects was a coffee table he built for a friend. The creativity involved in fabricating beautiful pieces of furniture instantly became Doc's driving passion.
He didn't think anything would come of his newfound hobby but within a few weeks, an interior designer discovered him. She asked him to bid on the construction of a high-end 14'x5' conference table. He won that bid. Just a week later, she asked him to bid on making five more conference tables. Doc knew he couldn't take on such a large project while continuing to work in the oil fields.
Just two-and-a-half months after taking up woodworking, he left the oil industry behind to open his own custom woodworking shop, The Wright Edge. His specialty is crafting bold, massive pieces that reveal the true beauty of wood. Doc's artisanal furnishing and art have become highly sought after by celebrities, athletes, and musicians, as well as some Fortune 500 companies.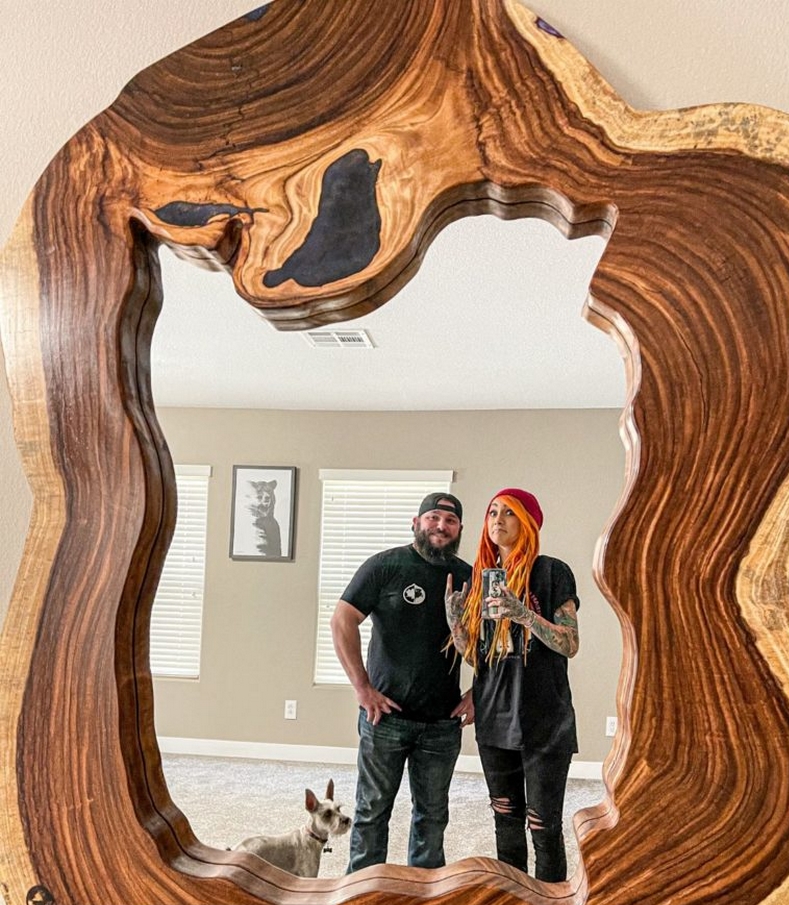 The Wright Edge Sources Sustainably
Biobased Entropy Resins are a natural fit with Doc's environmentally conscious approach to woodworking. He builds handcrafted, live-edge statement pieces with sustainably sourced wood slabs.
"I started out buying wood from a middleman in California. I was his biggest buyer for two years. But when I tried to renegotiate pricing, he refused to budge. So I started buying tropical hardwoods direct from Costa Rica Mill, a small family business specializing in kiln-dried live edge slabs that are cut legally with attention to environmental sustainability. Costa Rica is the only country that's actively working to renew its rainforests," he said.
He also buys unique wood from underwater harvesters overseas. These trees are submerged by nature or by manmade reservoirs. The cold water protects them from insect infestation and rot. The high-quality timber that results is a favorite of artisans like Doc Wright.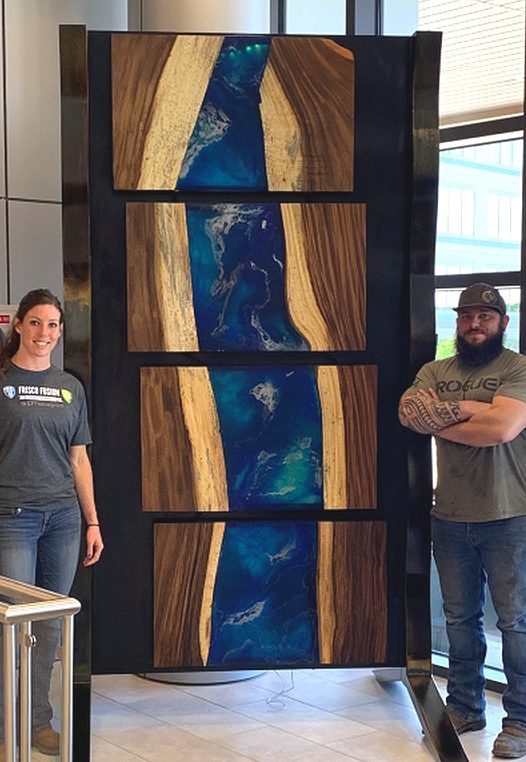 Whether in a hotel lobby, an art gallery, or a boardroom, Doc's unique yet functional pieces serve as an interior design focal point. Customers for his striking commercial and hospitality furnishings include Marriott, Omni, Sheraton, and Ritz Carlton hotels, and the Hard Rock Cafe. He has also designed and built residential custom furniture for well-known athletes and rock stars.
"When you get into the woodworking world, there are basically two avenues… custom or mass production. Mass production does not interest me at all. It's boring replicating work over and over and over again. Me, I'm a glutton for punishment. So every time we get a client it's like 'How far can I push them to do something crazy?' and that's the fun part of the conversation," Doc said during the More Than Home podcast.
All of The Wright Edge's furnishings are handmade from beginning to end. Keeping his clients closely involved every step of the way, Doc pays meticulous attention to each detail in the process. He does all his own cutting, drying, sanding, planing, and metalwork.
Letting the Wood do the Talking
Doc uses epoxy but he doesn't let it steal the show. He uses Entropy CCR to do clear castings that enhance the natural beauty of the wood without overwhelming it. This deft touch lets the wood speak for itself.
He always buys his wood inventory upfront, without plans for it. This way, clients can go into The Wright Edge shop and handpick the materials for their custom pieces. Or, if they live too far from Dallas, they can select from pictures of the materials he has on hand.
"I do all of our design work in 3D. So before I start fabricating, everything is signed off on," he told us.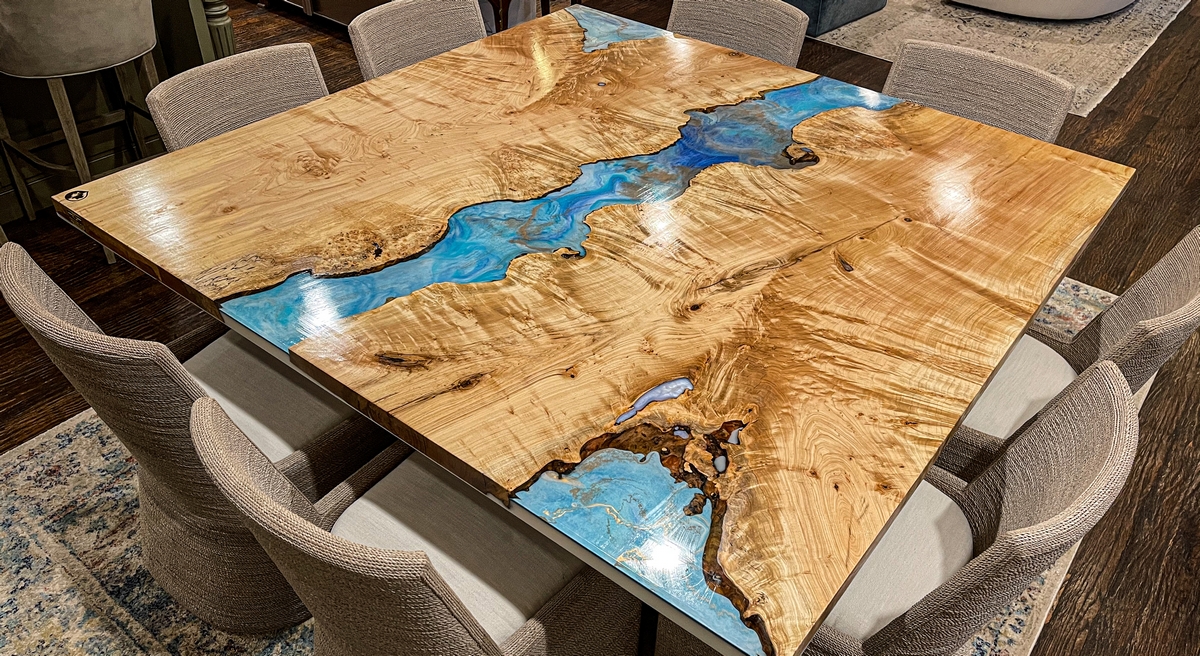 He uses entropy for his artistic pours and for clear pours on river tables. "I like Entropy for casting because its longer cure time allows me to get extremely creative with colors and patterns."
Doc originally started out using WEST SYSTEM Epoxy, which is formulated and made by the manufacturer as Entropy Resins: Gougeon Brothers, Inc. (GBI). He now uses both epoxy brands, and especially likes Entropy Resins CCR Clear Casting epoxy for pouring clear or colored castings.
"I got into Entropy because the longer cure time allows me to get extremely creative with colors and patterns," he said. "Besides, the amount of phone calls I get to come and fix other people's work made with cheaper epoxies is insane. And nobody talks to me about epoxy chemistry except for GBI."
Reputation is Everything
All of The Wright Edge's custom woodworking is done in their Dallas shop and shipped to customers throughout the continental United States. These pieces create a stunning ambiance and a powerful first impression.

"My logo and name go on every piece," Doc said. "Reputation is everything."
The Wright Edge showroom (currently appointment only) is located in the Bishop Arts District in Dallas, at 1148 Mississippi Avenue. With a clientele that's mainly looking for custom pieces, this showroom serves as a meeting place where clients can see and touch the furniture take in the breathtaking originality and quality of Doc's craftsmanship.
AMID THE SPEED AND CHAOS OF THE MODERN WORLD, WOODWORKING GIVES US A PLACE WHERE WE CAN SLOW DOWN, PAY ATTENTION, AND TAKE THE TIME TO DO THINGS RIGHT.

—Aimé Ontario Frase
For more information on The Wright Edge, visit thewrightedge.com.
Photo Credits
All photos featured in this post are copyright The Wright Edge and used with the permission of Doc Wright
Additional Photo Credits