Annually, 8 million metric tons of plastic enter the ocean
Kids Ocean Day is a yearly event that aims to do something about this severe threat to marine life and planetary health. This massive beach cleanup event takes place on a half dozen ocean beaches across California. Local students come to the beaches dressed in colorful clothing and pick up litter. Large groups of students then arrange themselves in different formations to create human artwork on the beach. A helicopter flies over and takes pictures and video of the students' human-art displays. The formations, bearing environmental messages, are designed ahead of time by the students themselves.
Entropy Resins supports Kids Ocean Day through 1% for the Planet, a global network of businesses, nonprofits, and individuals working together for a healthy planet.
Inspiring Ocean Stewardship
The mission of Kids Ocean Day is to inspire ocean stewardship and good environmental habits in children.
"The aerial art is the highlight of our event … It's amazing to see them get into formation. This is huge. It takes time to set up all the flags where the students have to sit," Tiff Murzi-Moyce of the Marine Science Institute, which helps organize the event, told KPIX in a news interview. "We give them as much information as possible ahead of time. We do presentations with them in school. We let them know what's coming up. We talk about how important they are and what their roles are, and then we just get them super jazzed for the aerial art display after. Our message [for parents and teachers] is the same as to the kids, and to also be good motivators. As long as they are excited about it, then their kids will be excited about it."
Beyond Kids Ocean Day, the Marine Science Institute provides marine science educational programs to about 65,000 students each year. They work on a 90' research vessel that takes students out onto the San Francisco Bay and runs scientific equipment. They also go into schools with live marine animals like leopard sharks and bat rays, so the kids can learn about them. "The kids get the best hands-on experiences because they're actually seeing the animals and touching them and learning about them," Murzi-Moyce explained.
According to I Love a Clean San Diego (ILACSD), "Many San Diego students who participate in Kids Ocean Day have never been to the beach before, despite living in San Diego. Bringing students outdoors and out of the classroom to enjoy and protect the coastal environment brings a whole new meaning and connection to nature that they will always remember.  The theme and message of the event each year shares the importance of conserving and protecting the environment. Giving local youth a voice with such a powerful message resonates with the community and really draws attention to the threats to ocean health, like marine debris and climate change." Participating youth as well as people who view the event "are inspired to unite and come together to reduce their waste, recycle, volunteer, end littering, and ultimately protect our beaches, our community, and our environment."
In Los Angeles, 4,200 School kids arrive at Dockweiler State Beach by the busload to clean up litter on Kids Ocean Day.
"Today, we're cleaning the beach," said Aura Garcia, the Public Works Commissioner for the city of Los Angeles. "This is a partnership with the city of Los Angeles and the Malibu Foundation. Today, we celebrate our 26th year. The Malibu Foundation does a fantastic job going into the schools, assembling young students and teaching them the effects and the consequences of [littering]."
Kids Ocean Day is the culmination of these student assemblies.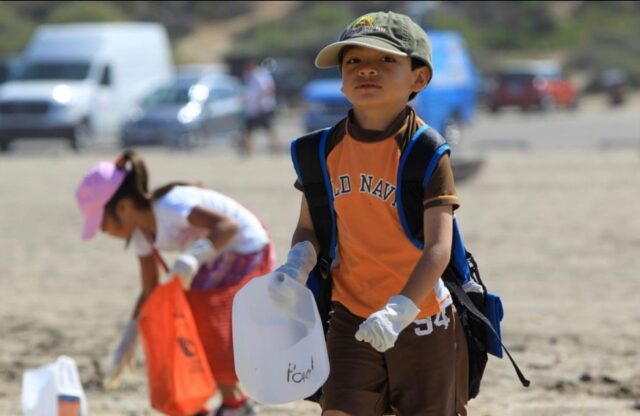 Malibu Foundation founder Michael Klubock does not preach to kids about littering. Instead, he shows them the effects of litter on marine animals, such as a plastic straw lodged in the nostril of a sea turtle. Talking to children honestly about the consequences of littering sends a powerful message, Klubock says. "There's an automatic empathy for animals. And then there's an automatic empathy and surprise when they're hurt," Klubock told LA This Week. "You don't really even have to teach that. It's just like, there, and kids go 'whoa.'"
"One piece of trash, when it's dropped on the street and it rains, goes down [through the storm drain systems] to the beaches and oceans," Klubock said. His overarching message is that clean beaches and oceans start in your own neighborhood.
Pedro Toledo, a student, told LA This Week "Fishes in the ocean could eat microplastics, and then they could get sick."
Ashley Saengnak, a young student at Nestle Elementary School, said "We found lots of bottle caps, papers, cigarette butts, and I'm just so sad that people throw trash on the beach.
"The fundamental idea is that we teach our young children how to take care of what they love. Get used to not just picking up your own trash but picking up somebody else's trash because at the end of the day we all want to take care of our ocean," Aura Garcia concluded.
How you can help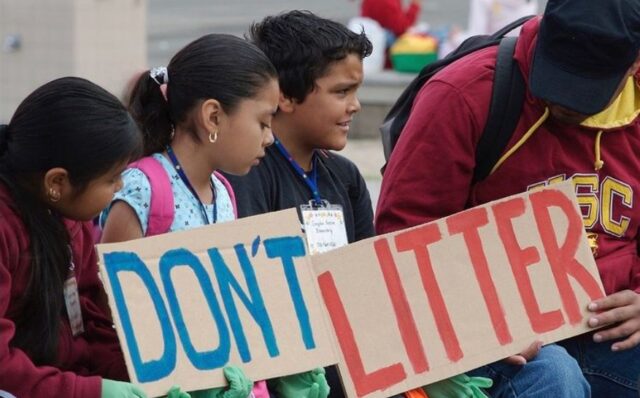 Wondering what can you do to help? In an interview with Gil Race of LA This Week, Garcia suggests volunteering to join the cause whether through Kids Ocean Day or other environmental initiatives. "Participate in community cleanups, participate in anything that has to do with keeping the sidewalks and the streets clean," because much of that litter will wind up in our beaches and oceans.
The next Kid's Ocean Day event will take place at Dockweiler State Park on May 22, 2022.
Image Credits
Top: Boy Sitting on Ball. Photo by Vanessa Bumbeers on Unsplash
Bottom: Red Solo Cup on Sand. Photo by Brian Yurasits on Unsplash